Camel and Man
Date of creation : Jan-98
Size of picture : 9" x 6"
Medium : Oil paint on oil paper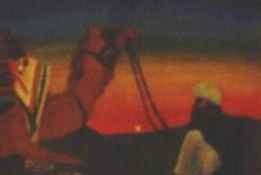 This is my first oil painting. Till this day, I used to do only pencil sketches. I had given up painting long back. When I did this painting, it took 8 days to dry it! It was winter time. Later on I learned another art that's very essential for doing oil paintings, patience! But this patience really pays off when the picture is completed.
When I showed this painting to my friend, Venu, who had introduced me to this wonderful art, he coolly suggested that I should paint this picture again. Because I had used too light colors in the painting. I was slightly taken aback because of this. But nevertheless I did it, and with wonderful results. Now I use bright and vibrant colors in all my pictures.